A while back I came across a recipe for pork rind pancakes on the Rudolph foods website. I could not get my mind around using crushed pork rinds for a pancake. This morning I awoke with the worst craving for pancakes only to realize that I had ran out of almond flour, so that's when I though of those pork rind pancakes and decided to use what I had on hand. I was pleasantly pleased with the outcome.
If no one told you these pancakes were made using pork rinds you would never know. The texture and mouth feel is exactly like regular pancakes. They are simply delicious and the best part is that they are low carb -Atkins induction friendly.
½ (cup already crushed) unflavored pork rinds
2 large eggs
¼ cup almond milk
1 teaspoon heavy cream
2 tablespoons of diabeti sweet
½ teaspoon cinnamon
coconut oil for griddle
Directions
Crush the pork rinds using a food processor or you could add the rinds to a freezer bag and crush using a rolling pin. In a separate bowl, whisk the eggs, almond milk, heavy cream, sweetener and cinnamon. Combine the pork rinds with the liquid mixture, allow to sit for approximately 5 minutes (this will allow the mixture to thicken).
Heat the griddle and add a little coconut oil. Cook the pancake until golden brown on both sides (about 2 minutes per side) over medium heat. Top with for favorite pancake syrup. I used Josephs Maple syrup.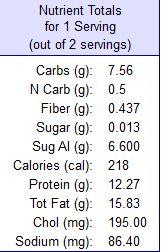 source:http://www.lowcarb360.com/